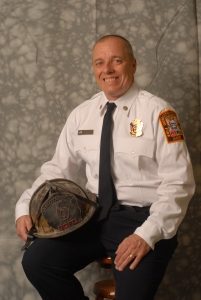 Craig Duck is the current President/Missionary of the Fellowship of Christian Firefighters International. Craig began his time in the ministry back in the late 1980s in Washington, DC in the local group headed by Don Biggs. He later became a regional director under Gay and Sue Reynold's administration and then rose to the president/missionary position in 2012. Craig has served in both volunteer and paid positions for almost 28 years, serving in very busy companies as well as some administrative positions. Craig has been serving in various ministry positions since coming to Christ in 1984 and loves that he can serve Christ in the fire service. Craig is married to Holly and together they have four grown boys serving God in their local churches.
Vision
to glorify God in the fire service by building relationships that turn the hearts and minds of firefighters and first responders to Christ (I Thessalonians 2:8), equipping them to serve Him (Ephesians 4:12).
Mission
To encourage one another to share the vision with the fire service community through
Evangelism and Discipleship – "Then Jesus came to them and said, 

"All authority in heaven and on earth has been given to me.

 

Therefore go and make disciples of all nations, baptizing them in the name of the Father and of the Son and of the Holy Spirit,

 and teaching them to obey everything I have commanded you. And surely I am with you always, to the very end of the age" 

(Matthew 28:18-20 NIV).

Building Local Groups for the purpose of Bible study and encouragement – "So encourage each other and build each other up, just as you are already doing" (I Thessalonians 5:11 NLT).
Praying – " Be anxious for nothing, but in everything by prayer and supplication, with thanksgiving, let your requests be made known to God;" (Philippians 4:6 NKJV).
Multiply our Community of Believers through membership for the purpose of building up the body of Christ in the fire service – "Therefore encourage one another and build one another up, just as you are doing" (I Thessalonians 5:11 ESV)
Key Verse
"And let us consider how to stir one another to love and good works, not neglecting to meet together, as is the manner of some, but encouraging one another, and all the more as you see the Day drawing near." Hebrews 10:24-25 ESV
To Glorify God in the Fire service!!
News From the President/Missionary