President/Missionary
Craig W. Duck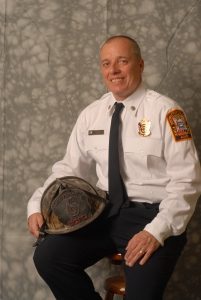 Craig has been in the fire service for 40 years, both as a volunteer and a paid firefighter. As soon as he became 18 years old Craig joined the Moyers Corners Volunteer Fire Department in Upstate, New York. After serving for five years Craig was hired with the District of Columbia Fire Department, serving for 28 years and rising to the rank of lieutenant. Craig has served in some of the busiest companies in the nation and has also served in the fire prevention division, fire investigation unit, and training division. He now serves in the Boydton Volunteer Fire Department in Boydton, Virginia. Craig has been involved in the Fellowship of Christian Firefighters International since 1988 and has served as the President/Missionary since 2012. Craig has been involved in multiple missions trips to Kenya, Malawi, Zambia, and Ukraine. Training firefighters the skills necessary to safely handle emergencies and sharing the gospel message with them is Craig's passion. Resources from FCFInternational have been given to firefighters worldwide because of the generous support of our members.
Craig loves to travel the country and speak to firefighters. Whether it's to talk about his role at the Pentagon on 911, his experience on busy companies, or ministry-related events for firefighters, Craig is passionate about encouraging firefighters. If you would like to book Craig for your next event simply email your request and the dates you would like to book to the email below.
Craig is here to serve firefighters and first responders. If you have a need in your life or want to serve in FCFInternational please email me.
Board of Directors
Tommy Neiman
Keith Helms
Wayne Detzer